Posts for: January, 2013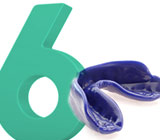 When involved in high impact sports or vigorous activities, it is important to protect your mouth and teeth. This statement is backed by the fact that there are over 600,000 sports-related dental injuries treated in emergency rooms across the US each year according to the US Centers for Disease Control (CDC).
In addition to absorbing and distributing the forces that impact the mouth, teeth, face and jaws an athlete receives while participating in sports such as baseball, football, basketball, hockey (ice and field), skateboarding and wrestling, the American Dental Association (ADA), also recommends the use of custom mouthguards for other activities such as acrobatics, bicycling, handball, racquetball, skiing, and even weightlifting.
These facts make two things clear: (1) it is vital that you obtain a professionally made mouthguard that you wear during these types of activities and (2) that you also understand how this mouthguard protects you. Below are just a few ways.
Lacerations. A custom-fit, professionally made mouthguard covers the sharp surfaces of the teeth to protect the soft tissues of the cheeks, lips, gums and tongue from lacerations that can occur from a blow or sudden jolt.
Mouth Impact. Just as a mouthguard protects against soft tissue lacerations, it can also help prevent injuries to the jaws and teeth. This includes but is not limited to chipped teeth, fractured teeth, broken teeth and teeth that are partially or fully knocked out of their natural position.
TMJ (jaw joint) Trauma. Wearing a properly fitted mouthguard can reduce the potential for jaw displacement and joint fractures by cushioning the jaws against damage from an impact.
Direct Jaw Impact. Anytime a person receives a direct impact to his/her jaw, having a mouthguard in place may help prevent more serious injuries to teeth and jaws. This is especially important for anyone diagnosed with TMJ.
Jaw Fracture. A custom-fit, professionally made mouthguard both absorbs and distributes impact forces so that jaws are protected. And it is this reduction in force that can help prevent the jaws from fractures.
Under Chin Impact. Receiving a blow under the chin can obviously damage teeth; however, it can also cause damage to the jaws as well as inflame or cause TMJ issues.
You can learn more about mouthguards by continuing to read the Dear Doctor magazine article "Athletic Mouthguards." Or you can contact us today to schedule an appointment.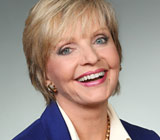 Florence Henderson has inspired generations of people through her portrayal of America's most beloved TV mother, Carol Brady, on one of the longest running situational comedies, The Brady Brunch. Today Florence is still a role model but for a much different audience: senior citizens.
Henderson created the FloH Club as an organization to assist senior citizens with understanding and embracing technology, as she described in an interview with Dear Doctor magazine. "I was inspired to create the FloH Club because of my own fear of technology and because I didn't want to keep asking my children for help," she said.
And while Henderson was blessed with naturally straight teeth and has had no cosmetic work done, she is not opposed to it. "I wouldn't care how old I was, if I had misaligned teeth or felt I needed cosmetic dentistry I would certainly do it!"
One teeth-straightening option many adults consider is clear orthodontic aligners. They are an excellent way for self-conscious adults to align their teeth without feeling that they will appear as an awkward "brace-faced" youth — a look that is commonplace for the teenage years.
But what are clear aligners? They are an alternative system to traditional braces that use a sequence of individual, custom-fitted trays that are clear and removable to gradually straighten teeth. They are usually recommended for correcting mild to moderate spacing problems or crowding of the teeth, and for cases in which there are no major issues with your bite (i.e., your back teeth fit together properly and biting forces are distributed evenly on all of your teeth).
To learn more about this method of aligning teeth, you can continue reading the Dear Doctor magazine article "Clear Orthodontic Aligners." Or you can contact us today to schedule an appointment so that we can conduct a thorough examination and discuss what treatment options will be best for you. And to read the entire interview with Florence Henderson, please see the Dear Doctor article "Florence Henderson."