Posts for: June, 2013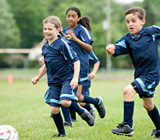 They work hard, and put in lots of time on the field and at home. They learn the rules of the game — as well as the unwritten rules of sportsmanship and teamwork. They receive the proper training, and wear appropriate protective equipment. But sometimes, in spite of everything, kids who participate in sports can be subject to injury. Fortunately, in today's dentistry there are a variety of treatments, as well as preventive measures, which can help.
When faced with serious dental injury, time is of the essence in saving teeth. So, don't delay — come in to see us immediately! If treated promptly, it's possible for teeth which have been dislodged — or even knocked out of the mouth — to be put back in position and stabilized. Afterwards, follow-up treatment will ensure that the tooth has the best chance of recovery.
The treatment of kids' dental injuries is sometimes different than that of adults. For example, in adults, a root canal would generally be necessary, followed by a tooth restoration (crown). But some kids may not need this treatment, since their teeth are still developing. Also, replacing a missing primary (baby) tooth may not be recommended, since it may hinder development of the permanent teeth. Based on his or her individual circumstances, we can develop an appropriate treatment plan for your child.
Luckily, the most common dental injuries aren't nearly as serious — they typically involve chipped or cracked teeth. Most can be repaired by reattaching the broken piece, or using a tooth-colored restoration. If a large part of the structure of a permanent tooth is missing, a crown or "cap" may be placed on the visible part, above the gum line. Smaller chips, even in primary teeth, can be successfully repaired by cosmetic bonding with composite resin materials.
Finally, if your child is involved in athletic activities — or if you are — consider obtaining a custom-made mouthguard. Numerous studies have shown that this protective gear can help prevent many dental injuries. Unlike the off-the-shelf types found in some sporting-goods stores, the ones we provide are individually fabricated from an exact model of the teeth. They're strong, fit comfortably, and offer superior protection at a reasonable cost.
If you have questions about the treatment of sports-related dental injuries, or about mouthguards, please contact us or schedule an appointment for a consultation. You can learn more in the Dear Doctor magazine articles "Trauma & Nerve Damage to Teeth" and "Mouthguards."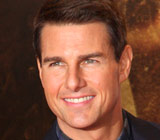 It's no surprise that plenty of teenagers go in for an orthodontic evaluation and come out wearing braces. But sometimes, an observant orthodontist may notice that an adult's smile could use a little bit of improvement, too. Even an adult like — Tom Cruise?
That's exactly what happened to the star of Top Gun, Rain Man and the Mission Impossible franchise. Cruise, then 39, was taking one of his children for orthodontic work when it was pointed out that the leading man's teeth were also out of alignment. So he opted for braces too.
"Yes, Tom Cruise has braces," said his publicist when the star appeared, sporting his new orthodontic appliances. "To him, it's no big deal." Cruise chose to get the relatively inconspicuous ceramic type, with only a thin wire visible in front of his teeth. He wore them for about a year and a half, having them temporarily removed when it was time to make a movie.
Ceramic braces are a popular choice among adult orthodontic patients, many of whom find that less noticeable orthodontic appliances fit in better with their personal or professional lifestyle. Clear aligners also provide a virtually invisible option. We can help you decide which appliance would best meet your needs. But the first step is a thorough evaluation of your periodontal health.
Is it Risky Business to get braces as an older adult? Not usually — but if you do show signs of periodontal disease, which is more prevalent in adults than teens, it's important to bring it under control before beginning your orthodontic treatment. There are also a few medical conditions, such as heart-valve disease, severe uncontrolled diabetes, and leukemia, which might preclude treatment.
For most people, however, orthodontics offers a great way to improve your appearance and boost your self-confidence — even if you're not a movie star. It is estimated that three-quarters of adults have some form of orthodontic problem; and studies have shown that orthodontic treatment can enhance an adult's career opportunities and social life.
So, if you're looking for a better smile at any age, don't hesitate to contact us or schedule an appointment to discuss your treatment options. You can learn more in the Dear Doctor magazine article "Orthodontics For The Older Adult."