Posts for tag: periodontal disease
By Kingston Family Dental
June 23, 2018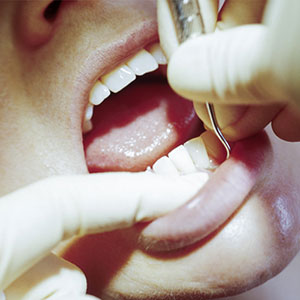 Periodontal (gum) disease is a serious infection that can damage more than periodontal tissues — supporting bone structure is also at risk. Any bone loss could eventually lead to tooth loss.
To stop it from causing this kind of damage, we must match this disease's aggressiveness with equally aggressive treatment. The various treatment techniques all have the same goal: to remove bacterial plaque, the source of the infection, from all oral surfaces, including below the gum line. Buildup of plaque, a thin film of food particles, after only a few days without adequate brushing and flossing is enough time to trigger gum disease.
The basic removal technique is called scaling, using hand instruments called scalers to manually remove plaque and calculus (hardened plaque deposits) above or just below the gum line. If the disease or infection has advanced to the roots, we may use another technique called root planing in which we shave or "plane" plaque and tartar from the root surfaces.
Advancing gum disease also causes a number of complex problems like abscesses (localized infections in certain areas of gum tissue) or periodontal pockets. In the latter circumstance the slight normal gap between tooth and gums becomes deeper as the tissues weaken and pull away. This forms a void or pocket that fills with inflammation or infection that must be removed. Plaque buildup can also occur around furcations, the places where a tooth's roots divide off from one another.
It may be necessary in these more complex situations to perform a procedure known as flap surgery to gain access to these infected areas. As the name implies, we create an opening in the gums with a hinge, much like the flap of a paper envelope. Once the accessed area has been cleansed of plaque and infected tissues (and often treated with antibiotics to stop further infection), the flapped tissue is closed back in place and sutured.
To avoid these advanced stages it's important for you to see us at the first sign of problems: swollen, red or bleeding gums. Even more important is to reduce your risk for gum disease in the first place with dedicated daily brushing and flossing to remove plaque and regular dental visits for more thorough cleaning.
Gum disease can be devastating to your long-term dental health. But with diligent hygiene and early aggressive treatment you can stop this destructive disease in its tracks.
If you would like more information on treating gum disease, please contact us or schedule an appointment for a consultation. You can also learn more about this topic by reading the Dear Doctor magazine article "Treating Difficult Areas of Periodontal Disease."
By Kingston Family Dental
April 09, 2015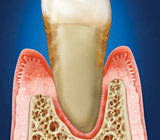 Loose teeth are an exciting rite of passage in childhood; in adulthood, they're anything but. In fact, a permanent tooth that feels loose is a sign that you need to make an appointment with our office right away. The quicker we act, the better chance we will have of saving the tooth.
What causes loose teeth? In the absence of a traumatic dental injury, the culprit is usually periodontal (gum) disease. This is a bacterial infection of the gum and/or bone tissues that surround and support your teeth. The infection is caused by bacterial plaque that sits on your teeth in the absence of effective oral hygiene. Over time, periodontal disease will cause gum tissue and eventually bone to detach from the teeth. As more of this supporting tissue is lost, the teeth will gradually become loose and (if the disease remains untreated) eventually fall out.
Loose teeth can also be caused by a clenching or grinding habit that generates too much biting force. This force can stretch the periodontal ligaments that join the teeth to the supporting bone, making your teeth looser.
Whether the cause of your tooth looseness is biological (gum disease) or mechanical (too much force), treatments are available here at the dental office. The first step in treating gum disease is a thorough cleaning to remove plaque and harder deposits on the teeth (tartar or calculus); this includes the tooth-root surfaces beneath the gum line. You will also be instructed on effective oral hygiene techniques and products to use at home. This type of therapy will promote healing of the gums that will cause some tightening of the teeth. Additional treatments will probably be necessary to gain the maximum healing response to allow the teeth to be most stable. For example, we may also want to temporarily or permanently splint the loose tooth or teeth to other teeth so that biting forces do not loosen them further.
There are other mechanical approaches we can employ to prevent a loose tooth from receiving too much force. For example, we can reshape the tooth by removing tiny amounts of its surface enamel in order to change the way upper and lower teeth contact each other. We also may suggest a custom-made nightguard to protect your teeth if you have a nighttime grinding habit.
The most important thing to know about loose teeth is that it's crucial to intervene quickly. So if you are experiencing tooth looseness, please contact us or schedule an appointment for a consultation. You can learn more by reading the Dear Doctor magazine articles "Loose Teeth" and "Treatment for Loose Teeth."