Posts for tag: snoring
By Kingston Family Dental
May 09, 2019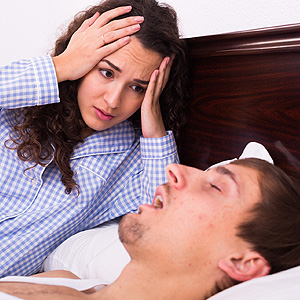 If your sleeping partner snores, it could be more than an annoyance: it could be a sign of sleep apnea. This occurs when air flow into the lungs becomes obstructed in the throat for a few seconds during sleep. The obstruction can take many forms, but a common one arises from the tongue relaxing against the back of the throat, producing snoring sounds as air attempts to pass through this restricted area.
Sleep apnea can cause severe problems: lower daily energy levels and mood from poor sleep; lower oxygen saturation that could affect brain function; and increased risk for cardiovascular disease. So, if you're awakened by your partner's snoring (or they're complaining about yours!), it's important to have it checked and treated.
This begins with a visit to us for a complete oral examination. Like many dentists, we're well trained in the anatomy and structures of the mouth, as well as the causes and treatment of sleep apnea. We'll examine your mouth, take into account any possible symptoms you're experiencing and, if your suspicions are correct, refer you to a sleep physician to diagnose if you have sleep apnea.
Treatment will depend on its cause and severity. An oral appliance worn during sleep is the recommended first treatment for mild to moderate sleep apnea that involves the tongue as an obstruction. We develop a custom appliance that helps move your tongue away from the back of the throat, reducing both apnea and snoring sounds. For more advanced sleep apnea you could benefit from a Continuous Positive Airway Pressure (CPAP) machine. This device generates continuous air pressure through a mask worn while sleeping that helps keep the airway open.
Of course, there are other causes for obstruction, some of which may require surgical intervention to relieve the problem. Abnormally large tonsils, adenoids or excessive soft tissue can all restrict air flow. Surgically removing or altering these structures could help reduce airway restriction.
Whatever type or degree of sleep apnea you or your partner may have, there are solutions. The right treatment will not only improve overall health, it will help both of you get a better night's sleep.
If you would like more information on sleep apnea and how to treat it, please contact us or schedule an appointment for a consultation. You can also learn more about this topic by reading the Dear Doctor magazine article "If You Snore, You Must Read More!"
By Kingston Family Dental
November 12, 2013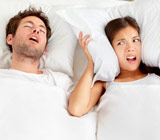 Sleep apnea, a form of sleep-related breathing disorders that is estimated to affect some 22 million Americans, is sometimes thought of as the "quiet culprit" lurking behind many other maladies. But ask anyone who sleeps alongside a sufferer, and you'll get a different response: It isn't quiet at all! Instead, it's often marked by loud snoring and scary episodes where breathing seems to stop. If you've ever worried that you or someone you care about may have this condition, here are five facts you should know.
1) Sleep apnea is a potentially deadly disease
For one thing, it leads to chronic fatigue that can make accidents far more likely — a special concern in potentially dangerous situations, like operating machinery or driving a vehicle. It also appears to be related to heart conditions such as high blood pressure, irregular heartbeat, coronary artery disease, and even stroke. Plus, it can lead to weight gain, depression and mood disorders.
2) People with sleep apnea may wake hundreds of times every night
These "micro-arousals" may occur 50 or more times per hour, and may keep a person from getting any relaxing sleep — even though they retain no memory of the episodes. That's why people who suffer from sleep apnea often go through their days on the verge of exhaustion. And they aren't the only ones who suffer: Their bed partners may also be kept up throughout the night, becoming anxious and irritable.
3) Persistent snoring can be a symptom of sleep apnea
Snoring is caused when breath being drawn into the lungs is obstructed by soft tissue structures in the upper airway. Most everyone snores sometimes… but chronic loud snoring is a common symptom of obstructive sleep apnea (OSA) — and the louder and more frequent the snoring, the greater the likelihood of OSA. To confirm a diagnosis of sleep apnea, a sleep study using special monitors may be conducted in a clinical setting, or an at-home test may be used.
4) Your dentist may be able to help diagnose and treat sleep apnea
What does dentistry have to do with sleep apnea? For one thing, sleep apnea is a disease that involves structures in the oral cavity — an area dentists are quite familiar with. Sometimes, fatigued folks who suffer from OSA begin snoring when they recline in the dental chair, showing their symptoms firsthand. But even if their patients don't fall asleep, dentists with proper training are recognized by the American Academy of Sleep Medicine (AASM) as being able to provide first line therapy for mild to moderate sleep disorders.
5) An oral appliance is a good step to try before more invasive treatments
If it's appropriate in your situation, your dentist can custom-fabricate an oral appliance that may alleviate sleep-related breathing disorders. This device, worn while you're sleeping, helps to maintain an open airway in the throat and to reduce breathing problems. With a success rate of around 80%, in many cases it's comparable to the more complex CPAP (continuous positive air pressure) machines, but people often find it easier to wear. Plus, it's a non-invasive treatment that can be explored before deciding on a more involved treatment, such as surgery.
If you would like more information about dentistry and sleep problems, please contact us or schedule an appointment for a consultation. You can also learn more by reading the Dear Doctor magazine articles "Sleep Disorders and Dentistry" and "Sleep Apnea FAQs."
By Kingston Family Dental
October 04, 2013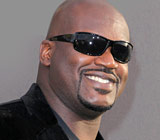 You may think snoring is a minor problem, but it can be a lot more than that. Just ask hoops star Shaquille O'Neal, whose rambunctious snoring bothered his girlfriend enough for her to suspect a health problem. Her observations eventually led to Shaq's diagnosis of moderate Obstructive Sleep Apnea (OSA), which occurs when the soft tissue structures at the back of a person's throat, including the tongue, partially close off the upper airway and prevent air from moving into the lungs during sleep. Sometimes airflow can be blocked completely for 10 or more seconds.
When air flow is reduced, blood oxygen levels drop. This leads to brief waking episodes known as "micro-arousals," which can happen sometimes more than 50 times an hour. The sleeper might not even be aware of this, even while gasping for air. Micro-arousals prevent the person from ever reaching deep, restful sleep.
Besides suffering from excessive daytime sleepiness, studies show sleep apnea patients are at higher risks of heart attacks, congestive heart failure, high blood pressure, brain damage and strokes. People with sleep apnea also have a higher incidence of work and driving-related accidents.
OSA can be treated in a few different ways. On the advice of his doctor, Shaq opted for a Continuous Positive Airway Pressure (CPAP) machine, which generates pressurized air delivered through a face mask worn while sleeping. The force of the pressurized air opens the airway (windpipe) in the same way as blowing into a balloon does.
For people with milder OSA, or who find they can't tolerate wearing a mask during sleep, an oral appliance supplied by a dental professional might be the answer. Oral appliances are worn in the mouth and are designed to gently reposition the jaw and move the tongue forward away from the back of the throat. Success rates of 80% or more have been reported using oral appliances, depending on the severity of the OSA.
If you would like more information on sleep apnea, please contact us or schedule an appointment for a consultation. You can learn more about sleep apnea by reading the Dear Doctor magazine article "Snoring & Sleep Apnea." Dear Doctor also has more on "Sleep Disorders & Dentistry."